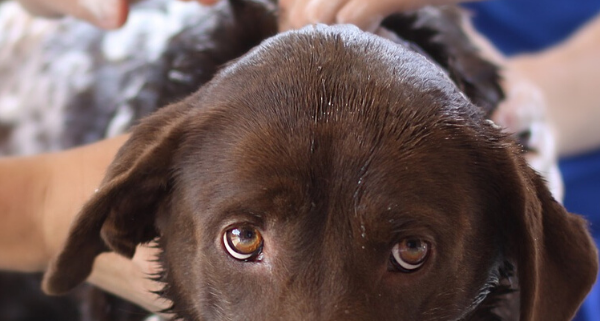 Bath-time – sometimes it's a pleasure, sometimes a chore. Depending on how your dog feels about having a scrub, bath-time is undoubtably a splash zone, but it's a necessity.
For dogs, it's in their nature to run around, swim in rivers, splash in puddles and for owners, it's our job to make sure they're clean, fresh and smelling sweetly before they get their muddy paw-prints over the furniture…
Whether this is an inside job with a fort of towels and a shower, or outside under the hose – bath-time can be a soggy challenge for all those involved. With this in mind, we wanted to make it that little bit easier, so your dogs can continue to roll around in mud, without the worry for the bathroom at home.
Our dog baths can be your pup's personal haven when it comes to washing away the grime of the day.
Available in a selection of colours and both small and large sizes, our moulded plastic dog baths are ideal for indoor or outdoor use.
With a slip-resistant bottom to help your dog feel safe at bath-time, you could even add some of your own bubbles to make your pup feel pampered and relaxed.
To help keep the mud and moult in, we have also introduced a drainage plug to avoid any nasty surprises and prevent clogging – making it easier and more efficient than ever to empty.
Don't let bath-time be a bust, our dog baths have been designed for heavy duty use – helping both owners and dogs to feel relaxed and comfortable at bath time.
View our range here and burst the bath-time barriers!
https://nedandfred.co.uk/wp-content/uploads/2020/07/Bursting-the-bath-time-bubble.png
800
600
TechnicalMarketingPR
https://www.nedandfred.co.uk/wp-content/uploads/2018/09/logo-1.png
TechnicalMarketingPR
2020-07-12 09:12:29
2020-07-01 09:21:16
Bursting the bath-time bubble